---
"The hottest play in Palm Springs...
A must-see"
--Diane Anderson-Minshall, THE ADVOCATE

"ELECTRICITY is shockingly good...
​The show is expertly executed...
Witty, bitchy, at times gritty and moving, the show hits all the right notes, delivering the perfect combination of sweet, sexy, uproarious, and at times, sad. But like any memorable love story, it all ends up going right to the heart."
--Winston Gieseke, PALM SPRINGS LIFE

"A rich character-driven delight...
Playful and poignant, the "Electricity" has a charge that extends not just between the characters but well into the audience."
--Margaret Quamme, THE COLUMBUS DISPATCH
​


​
ELECTRICITY
​CONTINUES IN PALM SPRINGS!
AFTER RAVE REVIEWS AND FEEDBACK FROM AUDIENCES
ELECTRICITY HAS BEEN EXTENDED AT INNdulge
NOW IN OUR SECOND YEAR!
Share the electricity inside a real hotel room!
Immerse yourself at INNdulge in Palm Springs with Gary and Brad

UPCOMING PERFORMANCE DATES:
December 17 & 18, 2018 at 7pm
January 8 & 9, 2019 at 7pm
March 10 & 11, 2019 at 7pm
April 8 & 9, 2019 at 7:30pm
​May 5 & 6, 2019 at 7:30pm
June 11 & 12, 2019 at 7:30pm
July 15 & 16, 2019 at 7:30pm


Starring
​TERRY RAY
MEL ENGLAND

Produced by
MICHAEL DARNER
Co-Directed for hotel by
AMY ROWELL
Directed by
STEVEN ROSENBAUM


SYNOPSIS:
Sex, drugs and booze make up the life of Brad Burke, while ex-seminary student Gary Henderson is so closeted that he hides his sexuality behind an invented wife. This unlikely pair hook up in a motel room after their 10-year high school reunion and it's a monumental clash of worlds that sparks an "electricity" between them that lures them back to that same motel room after each reunion for the next 3 decades.ELECTRICITY is a very funny, sexy and surprisingly emotional journey through the immense changes that happened to the LGBTQ community between 1983 and 2013. It navigates a world where gay life was hidden in bars and sex clubs to one where equality might just be a reality--if Gary and Brad can only believe that they deserve it.

ELECTRICITY received rave reviews for it's 11 week extended premiere in Los Angeles, it's appearance at Hollywood Fringe Festival 2017, Oscar's in Palm Springs, It's run at Evolution Theatre Company in Columbus, it's tour to Camp Bar Cabaret in St. Paul / Minneapolis and currently in Palm Springs at INNdulge.
There is nudity with mature themes
​"Funny... Dramatic... Touching...
Inspired... Clever... Entertainingly Intimate..."
--Will Dean, THE DESERT OUTLOOK
"Flawless romantic performances in a gay comedy gem...
A resplendent mix of hilarity and tender emotions...
Comic timing that sparkles...
A gay love story that endears, delights, and will surely
​endure as an important play about being gay in our turbulent times."
--John Townsend, LAVENDER MAGAZINE, Minneapolis
IMMERSIVE THEATRE
puts you in the same space as the performers. Walls are gone between the audience, the actors, and the action. For this exclusive engagement at INNdulge, only 20 lucky ticket holders get to be in Gary and Brad's hotel room with them... you're a fly on the wall as Terry Ray's acclaimed play ELECTRICITY, and its funny, sexy and powerful story unfolds over 4 decades. It's an unique and unforgettable entertainment experience that will stick with you long after the evening is over. This is a limited engagement with a very limited number of tickets.
"Sexually charged...
The thrill of voyeurism thrives...
A riveting delight to watch...
Truly enveloping and hypnotic experience"
--Genna Rivieccio, THE PRIDE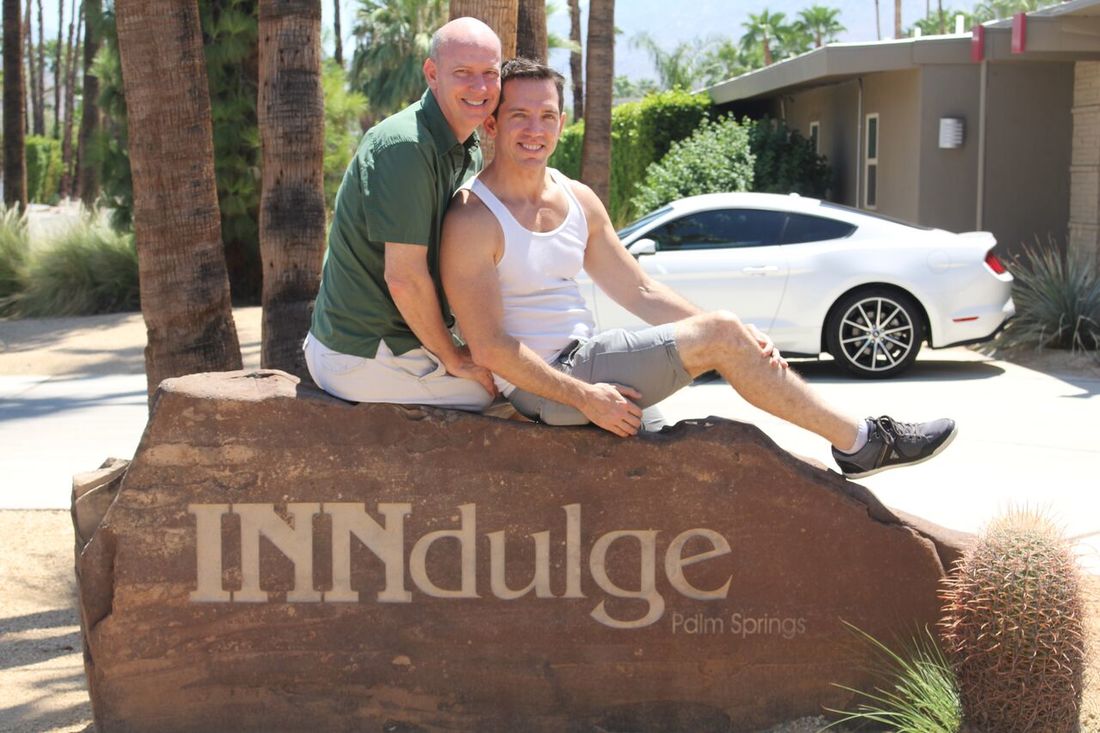 ​




​
​




​

​"It's an utter joy getting to spend a couple hours
with these two characters"
--Richard Sanford, COLUMBUS UNDERGROUND

HOW IS THIS IMMERSIVE EVENT
TO WORK?

Performances are at INNdulge in PALM SPRINGS, a premier, (discreet, clothing optional) men's resort. Attendance is open to anyone over 18 years old. The audience gathers in the lobby 30 minutes before the show for Brad and Gary's 10th high school reunion reception in 1983. You'll mingle with your fellow "classmates" before following Brad and Gary back to their room where the audience will have a one of a kind experience as the story unfolds around them.
It's 90 minutes with no intermission (real life doesn't have intermission!)

Please Note:
The path to and from the hotel room venue is private. No resort guests can be seen.



INNdulge
601 S. Greenfall Rd.
Palm Springs, California

Upcoming Performance Dates:

Monday, December 17, 2018 (7:00 pm)
Tuesday, December 18, 2018 (7:00 pm)
Tuesday, January 8, 2019 (7:00 pm)
Wednesday, January 9, 2019 (7:00 pm)
Sunday, March 10, 2019 (7:00 pm)
Monday, March 11, 2019 (7:00 pm)
Monday, April 8, 2019 (7:30 pm)
Tuesday, April 9, 2019 (7:30 pm)
Sunday, May 5, 2019 (7:30 pm)
Monday, May 6, 2019 (7:30 pm)
Tuesday, June 11, 2019 (7:30 pm)
Wednesday, June 12, 2019 (7:30 pm)
Monday, July 15, 2019 (7:30 pm)
Tuesday, July 16, 2019 (7:30 pm)



(There is no late seating - please check start times for each performance date)

Tickets are $55
(There is no charge for the reception)

Click on button below to buy tickets to this exclusive event.
"ELECTRICITY is a riveting exploration of life...
Ray & England's chemistry is the kind seen in the best of romantic comedies like some of my absolute favorite romantic comedy films--- SILVER LININGS PLAYBOOK or SOME LIKE IT HOT or HIS GIRL FRIDAY
or THE BIG SICK come to mind..."
--Becki Iverson, COMPENDIUM, Minneapolis